In business for over 20 years, Synetcom is now headquartered in a brand new facility in Oceanside, CA, with other offices in CA. Our specialty is industrial wireless. Our products are designed and supported by our team of Oceanside, CA engineers. Every system we ship is configured to work in your specific application. From standard products to customized systems, our goal is your success! We guarantee your satisfaction, or your money back.
Call our experts with your next industrial radio application - you will reach an engineer who understands the products and can answer your questions.
Our original WISE 4-20 I/O Radios started shipping in 1998 and are still in operation at many sites across the US - we continue to offer full factory support for these systems.
Synetcom® is a US manufacturer of long range license free 900 MHz, 2.4 GHz and licensed VHF, UHF industrial wireless I/O radios and I/O expanders:
> Wireless I/O 4-20mA Sensor Radios

> Serial RS-232, RS-485 Radios
> Industrial Wireless Ethernet Radios
> Serial and Ethernet I/O Expanders / Concentrators
> VHF UHF Licensed 5W RTU Telemetry Radio
Industrial Grade Wireless Systems
System Planning and Documentation
System Installation and Commissioning
Advanced system designs with Wireless Modbus, Ethernet IP, Ethernet TCP, Fieldbus, Video
Design / Fabrication of custom solar power systems, panels and enclosures
Facility-wide redundant and meshed radio systems
SUPPORT services
E MAIL contact
ENGINEERING SUPPORT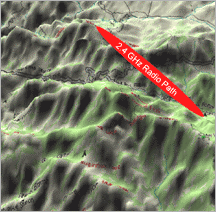 Computerized terrain mapping and signal calculations allow you to see how reliable our industrial wireless systems are - learn more about engineering support we offer free to our customers.

Contact our factory in Southern California for more information about any of our products - ask about our money back guarantee! 760 330 9500
24 hour factory support available